YEAR 2 TRIP TO WESTON SUPER MARE
12/09/2019
Year 2 had a fantastic day out at Weston Super Mare, they spent the day playing in the sand with their buckets and spades and splashing in the sea. They also had the chance to ride on a donkey, go on a boat swing and enjoy an ice cream in the sun. The children loved it.
SPORTS DAY
01/07/2019
Our sports day was held this week and each class took part in lots of different events and races and did themselves and Quinton very proud. It was a great success and we would like to thank everyone who took time to come and watch this years sports day and all those who helped us out on various events. Everyone had lots of fun and weather was on our side too. Well done to everyone.
AROUND THE WORLD DAY
21/06/2019
Quinton Church Primary School took part in an Around the World Day on Friday, where each has chosen a country to learn more about, and taken part in different activities in relation to that country. They were then asked to come into school in colours that related to their chosen country for the day. See below at some of the classes photos.
AUTHOR VISIT - SIMON TAYLOR
11/06/2019
We had the great pleasure of welcoming the author Simon Taylor into our school this week, where he read some of his books and put on workshops for the different year groups throughout out the school. The children had great fun and were then given the opportunity to purchase one of his books after this event. We had positive feedback from Simon after his visit which was lovely to hear and would like to thank all the children who took part .
"It is so much better when you have the teachers in your corner. The children pick up on it. It was a pleasure to meet you and your colleagues, please thank them for me. I loved the way they listened and joined in the dance" - Simon Taylor.
YEAR 5 TRIP TO CADBURY WORLD
Year 5 had a great day at Cadbury World on Friday 10th May, they took part in an Ancient Mayan civilisation workshop, during this workshop the children learnt about the Maya which then links in with their half termly topic. See below at all the fun they had.
ROCKSTEADY CONCERT
Well done to all the children that took part in the Rocksteady concert at School this week, everyone had a great time watching.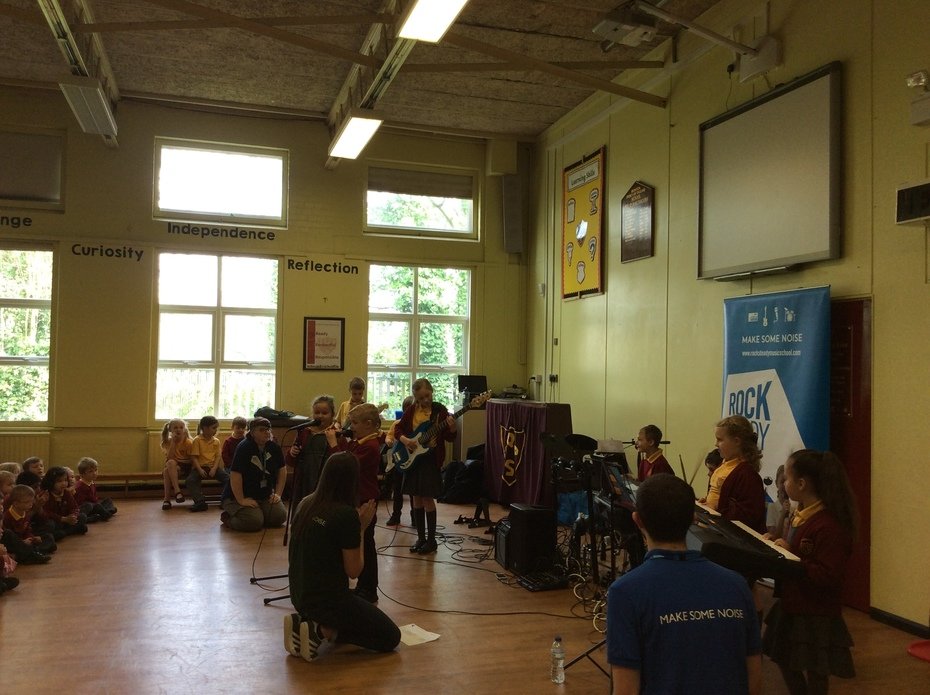 WORLD BOOK DAY
07/03/2019
All the children had the opportunity to dress up as their favourite book character today, we saw some fantastic costumes. Well done to everyone who took part.
REVEREND JENNY'S LEAVING ASSEMBLY
26/02/2019
We said goodbye to a very special person here at Quinton today. Reverend Jenny is retiring and the whole school played a massive part in wishing her well and thanking her for all the support, help and time she has put into our school over the past years. She will be greatly missed by us all.
SEVERN TRENT WATER ASSEMBLY
04/02/2019
We had the privilege today of a visit from Severn Trent Water who came to speak to the whole school about the journey of tap water. Children learnt about where their tap water comes from, what happens to it once they've used it and how we can all do our bit to use water more wisely.
INTERFAITH WEEK
Week Commencing 07/01/2019
Interfaith week was a great success again this year, with each class visiting a place of worship and then learning all about that religion in class for the week, finishing off with an assembly to show the school what each class had learnt.
ANTI-BULLYING WEEK
Week Commencing 12/11/2018
All of this week each class have been focusing on Anti-Bullying and have produced some great work in class, which was shown in assembly at the end of this week. You can see some of the work below.
LITERACY MORNING
Week Commencing 01/10/2018
A massive thank you to all parents that took part in the Literacy Morning on Thursday 4th October and we appreciate all the great feedback we have received. Each class got the opportunity to enjoy different activities in class working with their parents/carers such as, art work, writing poems, rhyming words etc.
EDUCATION SUNDAY
Education Sunday took place at Christ Church on Sunday 16th September and was a lovely service. It was aimed at the link with have between the church and our school. As you can see below some of our children lead this service and many children and parents attended.
WORLD BOOK DAY
Week Commencing 26/02/2018
On Thursday 1st March, all staff and children dressed up as their favourite book character, everyone made a great effort and looked great in their costumes. Below are a few photos from today.
INTERFAITH WEEK
Week Commencing 12/02/2018
This week, each class will get the opportunity to visit a place of worship. This gives the children the experience to look into other religions, and will continue to learn about where they visited in their lessons at school. We also have an assembly planned this week, in which each class can share what they learnt and seen throughout the week.
THE BIG REVEAL
Week Commencing 12/02/18
On Monday 12th February at our Esafety and coffee morning, we had the big reveal of our Stain glass window, which is situated in the office area of the school. The parents were amazed by the fantastic artwork and the massive input the children at Quinton had in this amazing piece of art.
QUINTON SLEUTH
We have been given the opportunity to decorate a Sleuth which will be placed around the city along with many others, which you can go and find. Mrs Leonard took on the commitment with her artistic skills to decorate our Sleuth and she did a fantastic job. Good Luck finding Sebastian.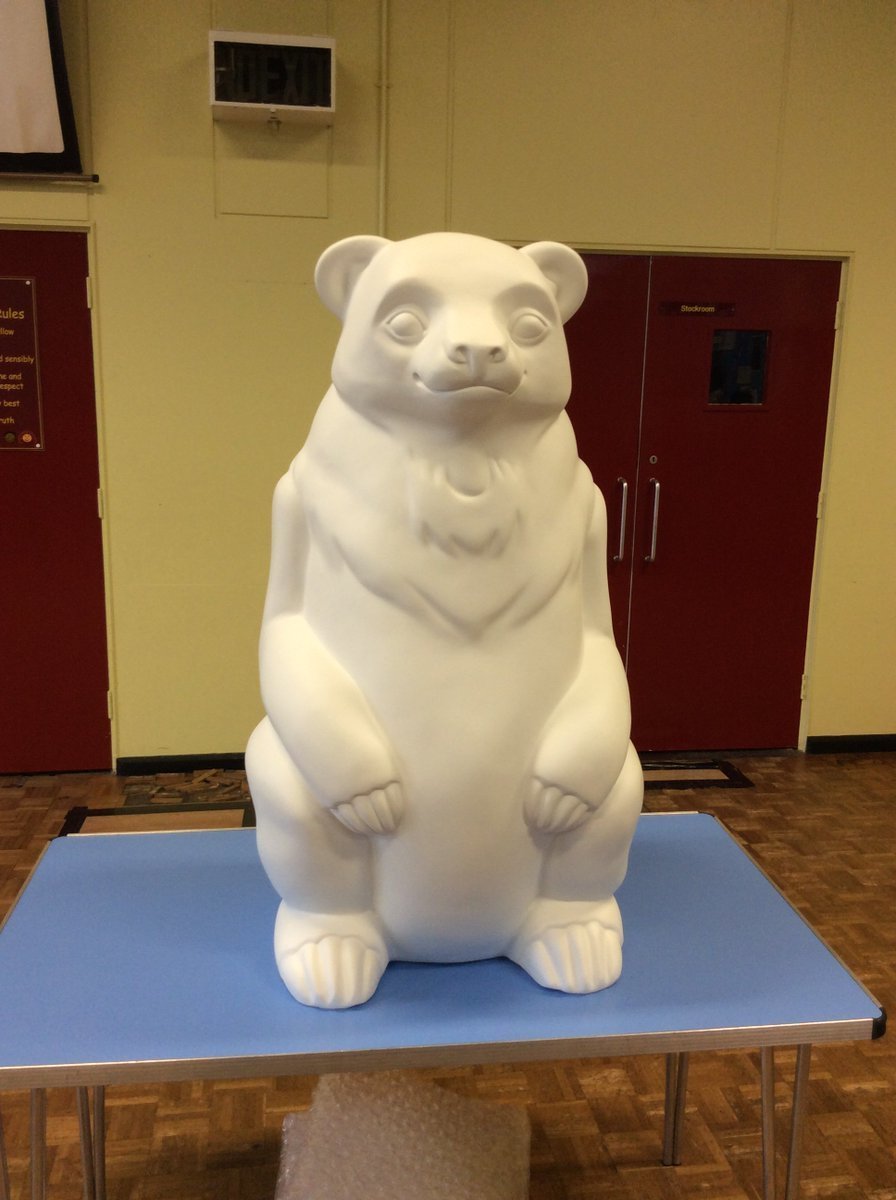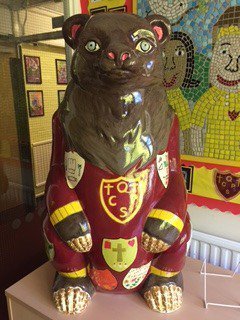 Bishop from malawi
We had another fabulous visit from a Bishop, all the way from Malawi. In 2016, the Diocese celebrates 50 years of partnering with Malawi. Over that time, many people have been helped and it has benefited people from Birmingham as well as the citizens from Malawi. It gives our children a wider global perspective, important for their future as global citizens.
We look forward to another 50 years!